My real life friends and today a
Twitter
follower ask me:
How does one do a booty call?
I admit to having a fair amount of experience in this area since my sexless marriage ended two years ago. No two booty call arrangements are the same, but they can be super fun, sexually exciting, and even a boost to your self-confidence – if you know the secrets.
Now, before I disclose my secrets to fun, satisfying booty calling, there are a two things we must establish:
My booty call companions are not Friends With Benefits because I have no idea how those arrangements work. If I'm friends with you, you don't get to see me naked. If you are my booty call, you are not my friend. (And I think I could end up with hurt feelings in a Friends With Benefits situation.)
This is very important: a person is not a suitable booty call companion if you might ever, even a little bit, hope for anything resembling a relationship with this person. You are not dating and, in all likelihood, you never will date your booty call. Be honest with yourself and make sure this is completely acceptable. (Now that you read that, please reread it. Seriously.)
OK? OK. Let's move on!
My booty call companions have come from various places. Two I met at bars (like
Zach
). Two were
guys I used to date
until they bored me but they were good in the sack.
One I thought I might want to date then I changed my mind
(and I was absolutely certain of this when I changed my mind). So you can find a booty call in a number of different ways; you just have to make it known that you're receptive – but be subtle about it. You might be surprised at who else is game for this arrangement.
Now, here are my secrets to successful booty calling.


Single
First and foremost, you and your booty call must both be single. Cheating is not nice.
If you're not sure if your potential companion is single, ask directly. If he says yes, that's the end of the discussion because it's game on!
Sexting
Sexting is a fantastic way to build up some anticipation to your hookup.
I had never participated in sexting until two years ago. (Yes, life after divorce has been interesting indeed.) Learning how to flirt and get a little dirty over text is really fun! I like that I learned about this with a guy where I had absolutely nothing to lose.
Sexting tip: if you are going to cross over from sexy words to sexy pictures, never include your face in the photo. As a woman, I have occasionally sent a picture of something like the side of my neck and my bare shoulder. It leaves something to the imagination and you can't see my face. (As a bonus, I can take a picture like that from my couch without changing out of my sweatpants.) Gentlemen, we don't like dick pics. Thanks!
Sober
Admittedly, I haven't always been totally sober when I have made or accepted a booty call. But there's buzzed, and then there's the kind of drunk where it's unsafe and/or going to lead to regrets. A dash of liquid courage might be OK, but not much more than that. Got it? Good!
Safe
You must completely go with your instincts on this one. If anything about being alone with the person does not feel safe, do not proceed. Don't question yourself, don't apologize, just stop it.
So let's say you are feeling frisky and comfortable with the person. If there's even a chance of having sex, BYO condoms. Since my divorce, I have been utterly appalled by how many attractive single men don't have condoms! Didn't any of these guys take Sex Ed?
Sex
If you do have sex, again, be safe.
A booty call companion has no loyalty to you and vice versa.
This person could be sleeping with other people (hell, maybe you are, too). So, condoms FTW.
But, you don't have to have sex for a booty call to be fun.
I have been hooking up off and on with
Sean
for two years, and
we have never had sex
. He was great for my self confidence (he was the first man to
call me sexy
) and for practicing my other moves. I learned a lot about my sexual preferences and talents without ever actually having intercourse.
Sleep
No sleepovers. Period.
Sleepovers lead to cuddling, and cuddling is for relationships. Cuddling can also get the
oxytocin
flowing, which can confuse you about the arrangement with the person who just got you off (hopefully).This person will never be your significant other, so once the fun is over, kick him out or get your ass home.
(This was extra important when
a guy I used to date became my booty call
.)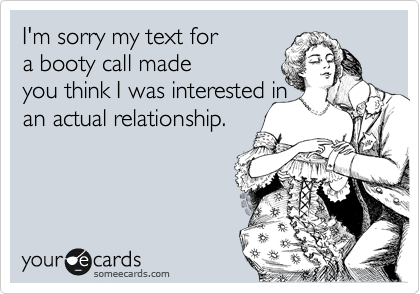 Do not confuse yourself or your booty call companion!
Silence
A booty call arrangement is always temporary and can end anytime. You need to be completely fine with this.
Here's the thing with booty calling – there is no real predictability. Sometimes you're arranging to meet up often, and other times you might go months without communicating. Then, you might contact him and he doesn't reply that night or ever again, or you might pull the same thing with him. Yes, this is acceptable behavior.
Embrace the silence as freeing you from having to bullshit a friendship or feigning interest in dating when you really just want to get some nookie.
(By the way, you do not get in touch to see how the person is doing or chat about the weather or invite him out for your birthday. That's what friends do, and I'm not talking about Friends With Benefits. Communicate with one purpose: building up to or arranging your next rendezvous.)
If these tips make you think:
"Wow, I would never want to get it on with someone I don't really know or have feelings for."
"This is terrifying. What if I got murdered/kidnapped/contracted a raging STD?!"
"Kat is weird/secretly a dude/a little slutty."
Then booty calling (and maybe my blog) is not for you. That's OK, I'm not offended. Like a booty call, it was fun while it lasted!
On the other hand, if these tips make you think:
"Wow, this sounds hot and exciting, and all I can emotionally handle."
"I haven't gotten laid in weeks/months/years and I'm going to wear out my vibrator if I don't do something about it."
"The person I went on a few dates with last month but we had nothing in common with might be perfect for this."
Then booty calling might just be the answer to your sexual needs when you're between relationships. Now go grab yourself a box of condoms and have fun!
What is your opinion on booty calling? A good idea or not worth the risk? Any fun booty call stories to share?