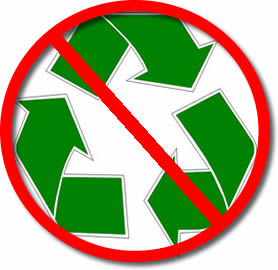 I always say not to recycle guys,
but it's a hard rule to follow. When a guy you found fun and attractive comes back around saying he regretted how he handled things with you, it's really hard to say, "Sorry, I only recycle paper, plastic, glass, and aluminum. Men are not available for recycling."
Let's talk about
Aaron
, a guy I recently kind of tried to recycle.
Aaron and I met on OKCupid and dated for about a month last winter. He was cute and fun. He was good in the kitchen and in the bedroom. We were really enjoying dating each other until he stopped enjoying me. (To this day, I don't know why, but I think he might have met someone else.)
He was a wimp about dumping me
, which was totally annoying. I get it, a person can get bored of someone or he meets someone else or whatever. Just man up and tell me "thanks but no thanks" so we can both go our separate ways.
Then, a few weeks later, he contacted me to apologize for how things went down with me. I was surprised and accepted the apology. I thought that was that.
Then, late one night in June, I got a text from an unknown number saying we should get together sometime.
I had deleted Aaron
from my contacts, but not our last text conversation. Still, what the heck? So I wrote back "Sorry, but who is this?" No answer. Ha!
So, when Aaron got in touch with me at the end of my
Dating Diet
, literally hours after I got back onto OKCupid, I was surprised indeed.
After a few flirty messages, I agreed to meet him for a drink, though I was totally confused why I was even going. Not recycling guys is a thing with me!
I Recycle Aaron for Dating Purposes
Two days later, I was sitting at the bar when he came on to the patio. Shit. He looked even better than I remembered. And shorter. But hot. Blue eyes, sweet smile, and totally jacked body.




The conversation just flowed naturally. He remembered everything about me, too, which was both charming and flattering. (He even asked if I was still blogging!)




Then he went there...




"So, Kat, what brought you back to OKCupid?" Aaron asked.




"I took a break from online dating for a few months, and I thought I'd give it another shot," I answered truthfully.

"But the real question is why did you contact me?
Why am I here?"

(Hey, he dated me once, he knows I don't do bullshit.)




Aaron rather sweetly rambled that he had a lot of fun with me and we all do things we regret and he thought I was cool and the sex was good and when he saw me on OKCupid he had to try contacting me.




"Really, you're mentioning the sex right now?!" I said, eyebrow raised, kind of incredulous but also admiring his honesty.




"Well," he said, sheepishly grinning, "It was good."




I shrugged and nodded. Can't disagree there!




"So I now know that you're the one who contacted me in June," I said bluntly.




"Yeah. You deleted my number?!" Aaron said, looking embarrassed.




"Of course I did. I delete anyone who doesn't deserve a spot in my phone anymore," I explained simply.




With all of this out of the way, we went back to chatting and flirting. Aaron paid for our drinks, then walked me back to my car. In the garage, he kissed me. I leaned up against

my ex-husband's car

and let him kiss me more. Oh, MAN, I like kissing him. Being the lady I [sometimes] am, I said good night and got in my car.




I started to drive away, then I turned around. I found him walking to his car.




"Aaron!" I called out my window.




Startled, he looked over, then he smiled. He approached my passenger window. I shook my head and beckoned for him to come to my driver's side window.




"I decided I wasn't done kissing you," I said. With a grin, he leaned in and kissed me again.




When I drove away, I was fluttery... kind of.

I mean, I'd just kissed a hot guy. We flirted and had pretty good conversation. I was post-date smiley… kind of.




But… I was so guarded, and I don't like being super guarded. I just kept thinking, "This guy dumped me. This guy dumped me. This guy dumped me!"




He promptly asked me out again. (He made me dinner!) And again. And again. All were fun and low key and totally PG.



But the last time that he came over I just knew…
this isn't my guy.

I would never get over that he lost interest in me before. More importantly, seven months later, I have a better idea now for what I'm looking for in a guy; as cute and fun as Aaron is, he isn't quite… enough. It's hard to explain. Like I could totally picture snuggling with him on my couch and bringing him out my local friends, but I couldn't imagine ever being at a point where he would come with me to Virginia to meet

my brother, sister-in-law, and their kids or Ali and her family

. Some level of connection just wasn't there.
Can I Recycle Aaron for Sex Purposes?
But, you guys know how I am about physical chemistry. I value that shit like nobody's business. I wondered if I could transform Aaron into my new option for no-strings-attached sex, since I have fully closed the door on
Jason and the Incredible Sex
(aren't you proud of me?), and
Steve
, the guy from my building, has kind of disappeared (maybe he got a girlfriend? Good for him!).
I like Aaron and I too remembered the sex being good, so why let him go? When I know the sex is good and My Number doesn't go up, I'm all for recycling.
So, 24 hours after our last date, I texted him.
Woohoo, I got me a new friend with benefits!
I got to take advantage of this great new set up exactly one time before this shit happened:
12 hours after my fall.
Ninja fight? A fall in a sewer? A car accident on the autobahn? I'll tell all
next week
!
What do you think about recycling former flames? Has it ever worked to give someone a second (or third or seventh) chance?