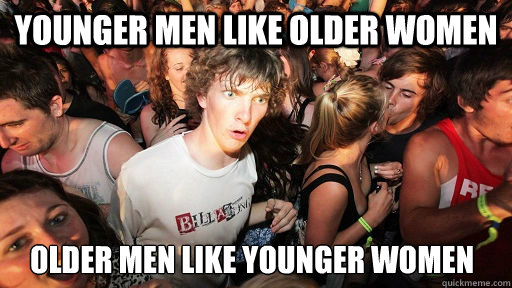 Sweet!
In the beginning of June, I made a dating declaration: No more going out with 27-year-olds.

I keep attracting these guys and guess what? Nothing. Keeps. Happening.
"I only want guys who are 35 or older!" I declared to no one. "Guys born in the 1980s are not allowed!"

Well, as anyone single knows, when it rains prospective suitors, it must pour. After a relative drought last month (other than a cute 27-year-old who ended up blowing me off), this month has been hot with male attention from a wide range of ages.
I Meet a 44-Year-Old
I've never gone out with someone more than a year or two older than me, but I think it would make a lot of sense for divorced me to go out with an older man.
Lo and behold, that very weekend, I met Steve, who's 10 years older than me, at a gathering for the residents of my apartment building.
(By the way –
We were outside on the patio chatting and drinking, and gradually the group shrunk down to four of us. The conversation was lively, smart, and fun… and I sensed a spark with Steve (and I was pretty sure it wasn't just the sauvignon blanc). Eventually it was 1 a.m., and it was time to call it a night. I rode the elevator up to my apartment, walked through the door, and then paused.
There was
something
there with Steve, and I was 87% certain the wine wasn't misguiding me. And then I thought of
my goal to meet my next guy in real life
. Bold, I thought, be bold! I grabbed a piece of paper.
"You forgot to get my number. XXX-XXX-XXXX -Kat."
And I dashed back down the hall to the elevator before I lost my nerve.
I knocked on his apartment door, questioning if I was about to make a total fool of myself. He opened the door, looked surprised, and then smiled at me.
"So I'm not sure if I'm way off here, but I kind of feel like you wanted to get my number, but you didn't. Was I wrong?" I asked, faking confidence.
He grinned at me. "Well, come on in."
At 5 a.m., he kissed me.
At 5:30 a.m., we fell asleep next to each other on the couch.
At 7 a.m., I left my note on the coffee table and headed back upstairs.
He called me – like an actual phone call starring his voice, you guys – the next day.
Off to a decent start, right?
...Then I Meet a 27-Year-Old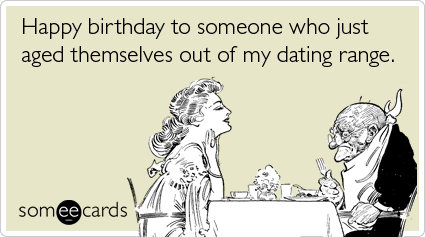 ...And yet he got my number anyway.
A few days after I met Steve, what do you think happened? I met another guy, Carl. And take a wild guess how old he was? Yup, 27. I wasn't going to give him my number but… there was something about him. A really positive energy. So, what the hell, I'll break my new rule.
That Saturday, while I was driving home after
my visit with Max's parents
, Carl and I arranged an impromptu date for that very evening. I didn't even get to go home and primp! (I miiiiight have changed my clothes and put on liquid eyeliner at a rest stop though.) A glass of wine turned into a sharing a pizza that turned into getting a cocktail that turned into dancing that turned into a fantastic kiss. Um, what the hell? How did that just happen?!
Last week, Carl asked me to get a drink after work. I did something crazy. I skipped my Tuesday night spinning class and agreed to have a quick drink. Our drink lasted for almost four hours. We talked about real stuff, dumb stuff, and flirty stuff. He kissed me softly… and once he felt it would be acceptable, he kissed me boldly.

Shit, you guys, I'm forming a crush on a guy born in the 1980s.
The Side-by-Side Comparison
Obviously, Steve texted me while I was enjoying my cocktail with Carl. Steve had been sort of trying to make plans with me, but not in a direct "Can I take you to dinner on Friday" way – more like "Let me know when you want to get together" way. Eh, not very hot. So anyway, Steve asked me to stop by when I got home. I felt a little sketchy to go from a lovely evening with Carl to seeing Steve, but this was a unique opportunity for a side-by-side comparison!
It was my first time seeing Steve since our marathon first meeting. We just chilled on his couch, talking, for less than hour. When I left, he gave me a little kiss goodbye and still left things loosey-goosey about plans.
So what was the verdict of my side-by-side?
Both are good kissers. (As you know, I looooove kissing.) Neither seem like they would be wimps in the bedroom.
Steve is definitely cute and he seems interested in me… kind of.
I'm looking for a boyfriend
, and I'm not quite sure what he wants. And our calendars never seem to align.
Carl is pretty openly showing me that he wants to know more about me (remarkably, it's not scaring me off yet). He is a relationship kind of person.
What matters at the moment is that both seem to be good guys [please, Steve and Carl, don't prove me wrong] and I feel like I'm being true to myself when I'm with each of them. So, I'm going to continue talking to both of them until it's time to stop, whether it's because I get bored or dumped or… I actually develop feelings for someone.


And can I just say that I think it's kind of awesome that there is a 17-year age gap between my two flavors of the week?! The joys of being 34 and single!
How does age factor into your dating decisions?